Blind logos / blindness symbols
/ blind signs / blind mark / symbol for the blind / sign for the blind

: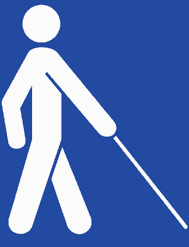 Blind logos large

/ blind symbols print (graphic)
As
traffic-safety-sign
for the
blind and the visually impaired apply on public roads (in Germany) the following marks:


the white cane (long stick)
the white guide harness of a guide dog
the yellow handicapped armband (three black dots)


The white cane was invented in February 1931 by Madam Guilly d'Herbement and every year on the 15th of October the world-wide day of the white cane is celebrated.




A good idea from the Czech Republic and England: The

red-white cane

for deafblind people should avoid confusion with the blind (see Lorm).





Only about 2% of the blind (in Germany) have a guide dog.




Different armbands - only the left (3 black dots) is valid in Germany as a traffic-safety-sign.

three black dots on a yellow background

Blind armband with blind logo, white on a blue background

Blind armband with blind logo, black on a yellow background



The most frequently used traffic-safety-sign by blind people today is the white cane or the guide dog.

The yellow armband with the three black dots is also valid for the deaf and the physically disabled. To mark the disability, a disability badge can be worn or this sign is attached to certain objects of the blind man.


---

The yellow armband was introduced after the First World War, when many war blind people resumed their usual activities and had to be identified by an eye-catching symbol in the road traffic for their own safety.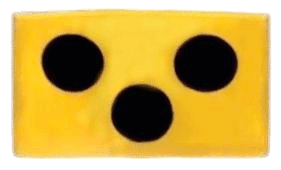 The white cane did not exist yet, but such traffic signs (Germany) with dots: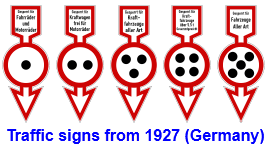 The three black dots therefore have nothing to do with Braille - and there is no carrying order depending on the disability!


Meaning of the sign with the three black dots is simply just a conspicuous marking of people who may pose a danger on public roads because of their disability. Similar to the black and yellow striped markings of danger spots in public.




Today, the stereotypical symbol of the three black dots should be advantageously replaced by a triangle symbol (meanings V for right of way or A for attention) as traffic-safety-sign for all:





or so





(Conceivable is the use of symbols on protectors or the like.)