The
Fakoo Writing
(Fakoo Alphabet) is a
9-dot-writing
to display the alphanumeric
information, marked by reducing the used elements of representation all the characters to the absolutely essential minimum of nine dots.





The Fakoo Alphabet developed in 2007 by Alexander Fakoó as writing for the blind and the seeing people and registered successfully in 2008 on the German Patent and Trademark Office.



The Fakoo Alphabet is licensed by a

Creative Commons Lizenz





You are free to copy, distribute and transmit the Fakoo Alphabet, if you attribute in the manner specified by the author and may not use this alphabet for commercial purposes.

Attribute the work: Alexander Fakoó fakoo.de/en


in the case of Braille Coin of Palau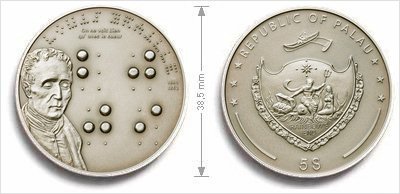 The edition of Braille coin from Palau for the 200th day of birth of Louis Braille 2009, from legal reasons set ahead of schedule. For this reason, only 1200 copies in circulation.





Because for the words "LOUIS BRAILLE" was used Fakoo Writing, I require as the author the following additional information on the sales side of the Braille coin:
Name "LOUIS BRAILLE" in Fakoo Writing by Alexander Fakoó
different print versions of the Fakoo Alphabet

the Fakoo character set table